The Makers Crafts gallery has moved to Abergavenny!
We've been busy getting ready for our opening on Tuesday 10th January. If you can't join us on 10th, join us at our Open Evening on Saturday 14th, 5pm to 8pm. (RSVP: themakerscraftsgallery@gmail.com)
To celebrate, we are offering 10% discount on all items, (excluding cards) on both 10th and 14th January
We're looking forward to welcoming you to our new ground-floor space. With work across three rooms, (Skirrid, Deri and Blorenge) there is something for everyone.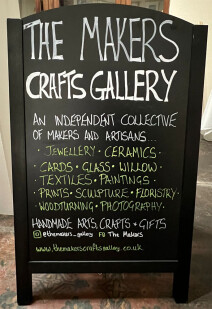 Makers opening times
Tuesday - Saturday: 10.30am to 4pm (to 5pm on Fridays)
Sundays: 11am to 4pm
Closed on Mondays
You can find us at Lulworth House, 30 Monk Street Abergavenny NP7 5NP.
Look out for the sign!