Turn treasured photo memories into personalised gifts and mementos
Do something different with your favourite photos..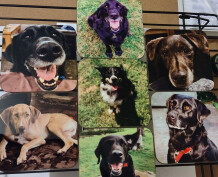 Special occasions and once-in-a-lifetime holidays, to your furry friends or Dad's old motor..
I can help you make your special photos into a range of personalised gifts or mementos, for you, your loved ones and your home.
[Picture: customer order, Dec. 2022]
How it works.
Get in touch, via form, email or phone, to let me know your interest, (& so I know to look for your image).
Send me your image via email, (WeTransfer is useful for sending large files).
PLEASE NOTE. You or the person your are gifting must have copyright for the image. I cannot print an image taken from the internet.
Your image needs to be at least 1MB in size, to allow a good print for your finished product.
Once I have your image, I will be able to confirm if it is suitable for the item you've chosen.
I will send you an invoice for yor order, on your acceptance of any edits.
I will confirm receipt of payment, then you can sit back while I fulfil your order!
File types
I can work with the following file types: JPG, PNG, TIFF, EPS. Images from PDF may be possible, depending if the document has been compressed.
Lead times
Lead times for printing are usually 10 - 14 days.
This may increase if your image needs editing or at busy times.
I will confirm your order lead time with you when you have sent your image.
Get in touch to print your special memories.
Other stuff
Editing your image
If your image is unsuitable for your chosen item, or needs editing, I will let you know what may be possible.
I can crop, make limited edits and increase the size a certain amount but a larger size for the original image is better - especially when choosing larger items to print.
You might like to choose a different item or change your photo choice.
Cost

Generally, there is no extra cost than the chosen item, (e.g. coasters, key-ring etc). If there is an extra charge for editing, I will let you know and give you an estimate of the cost.
If you agree to continue, I will make the changes and send you a copy of the revised image for your approval.